PAN Software, leading provider of Enterprise Risk Intelligence software RiskWare, is pleased to announce that it has been recognised as an ABA100 Winner in the Australian Business Awards 2019 for three award categories: Software Innovation, Product Excellence and Mobile Innovation.



Now in its fourteenth year, The Australian Business Awards program acknowledges and honours high-performing organisations for their achievements, both nationally and internationally, in business and innovation. Recipients of these awards are recognised as the elite of their industry in demonstrating the core values of business innovation, product innovation, technological achievement and employee engagement. The national winners are assessed in the international chapter of the program at The World Business Awards, so all participating organisations are benchmarked against top performers globally.
As said by Australian Business Awards Program Director, Tara Johnston, "Innovation is vital for every company, but it's even more important for business growth and expansion. Innovation makes it easier to grow, regardless of the size of the business. You need new, unique ideas, and the ability to bring them to market before the competition."
"Each year the ABA100 Winners are recognised for their innovative initiatives, products and services, which are leading business and digital transformation within the Australian marketplace," she added.
In our mission to make the world a little less risky, we have become obsessed with creating forward-thinking software that is functional, intuitive, mobile and most importantly, helps makes our client's lives easier - and we have built an enthusiastic team of technology and business professionals to make this happen.
We are thrilled to have earned awards in these categories and join the good company of such a distinguished group of visionaries working to drive innovation in Australia.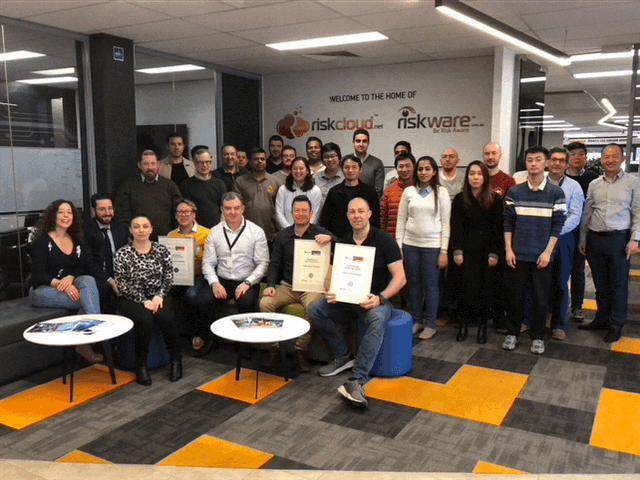 To learn more about our Australian Business Awards 2019, check out the following links:
---
For more about RiskWare and our team, please visit us at RiskWare.com.au or click below to get in touch!