If recent events have shown us anything, it is how vulnerable organisations can be without the right planning in place to support their responsiveness, their resilience and the decisions they make during a time of crisis.
Whether it is a natural disaster like the recent bushfires, or the unknown like we've faced with the COVID-19 pandemic, there are things businesses can do to ensure they are best positioned to continue operations into the future.
RiskWare's Business Continuity Module has been developed to allow organisations not only to respond efficiently should a disruption event occur, but also to provide valued insights into organisational vulnerabilities, so that you can address them before they become issues at the worst possible time.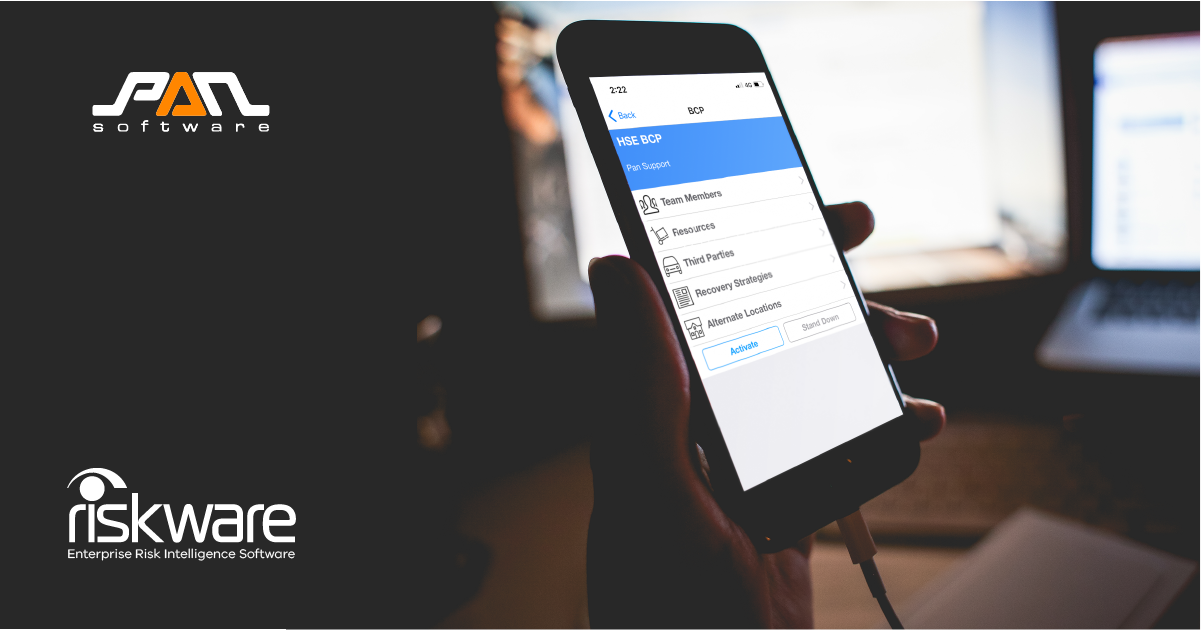 We've put together 4 key features of our Business Continuity Module to highlight how RiskWare can support your business in its most difficult times.
1. Understand your business and its vulnerabilities
While RiskWare's Business Continuity Software allows you to conduct a Business Impact Assessment against key functions, it also goes further and looks to utilise the data you input to provide you more than just a summary of what you already know.
RiskWare's unique approach allows for your organisation to see all your dependencies, be it functions, people, resources or third parties and visually presents this information in an interactive map. This method provides the ability for organisations to quickly identify single point of failures, critical resources or key people, and then drill into the data presented to gain further insights into how these can impact your organisation.
Furthermore, RiskWare automatically presents a clear understanding of where discrepancies lie between business needs and IT recovery capability.
2. Plan for Response and Recovery
As we've experienced with the spread of COVID-19, disruption events can escalate quickly and have dire implications, meaning organisations have to take action quickly. RiskWare provides organisations with flexibility in response activation allowing for activation locally for a geographic or business unit level or even at a functional or resource level. Plans are activated quickly and simply with relevant emails and SMS notifications notifying individuals when plans become active.
Additionally, RiskWare's Business Continuity Module uses an intuitive and user-friendly approach to creating your business continuity documentation. Using this approach, RiskWare guides you through the process of:
Generating step by step recovery actions that takes users through what they need to do in an easy to follow guide;
Creating standardised recovery and response processes/checklists that can be drawn on by any plan;
Defining alternative actions, resources, people or third parties to ensure redundancy is built into your plans; and
Creating Crisis Management and Disaster Recovery Plans to further support the overarching coordination of response and recovery.
3. Information availability
Understanding that things happen outside business hours, RiskWare's pocketBCP App allows businesses to not only activate Business Continuity Plans via the mobile app, but also provides a clear and concise approach to manage disruption events. Relevant information is provided to devices based on roles within a disruption event, ensuring that the relevant staff are provided with appropriate information.
RiskWare ensures that Business Continuity Plans are able to be accessed in a variety of ways either as a PDF, via the web or by using RiskWare's pocketBCM mobile App, making certain that they are accessible 24x7 to guide teams through the unexpected.
RiskWare provides mobile functionality to ensure the highest level of accessibility across your Business Continuity Plans when they are needed most.
4. Testing and Learning
Regular testing of plans is imperative in the success of responding to disruption events. It ensures that plans can continually evolve, so when things occur, the business is well prepared and versed in its response.
RiskWare's Business Continuity Module also provides robust functionality that allows organisations to test plans, stepping through recovery efforts and see what works and what does not. Additionally, by providing this ability within the system, RiskWare ensures that any findings can not only be captured, but also any associated follow up actions that need to be taken can be tracked and managed through to completion.
With RiskWare ensuring that the planning, maintenance and coordination of response activities is taken care of, you can spend time focusing on providing leadership and informing employees, customers and stakeholders of what they need to know to keep them safe and operating.
If your organisation could use assistance in managing your business continuity or you want to make sure you are bettered prepared in the future, check out RiskWare's Business Continuity Module. Our team would be more than happy to give you a demo as well as access to a free trial.