When it comes to risk management, the hope is that the threats that we work to identify and control don't happen. If they do occur, we are sufficiently prepared to manage them, so that we don't experience the negative consequences. If you and your organisation are lucky enough to not have had to face a disaster or crisis, then perhaps you start to think you don't need really need to invest in your risk management efforts. When in doubt, we look to TV shows and movies to help us realise that our lives need a change - it's similar with risk management too!
For years, movies and television shows have been showing the dramatic impact disasters can have financially, socially and environmentally, demonstrating exactly why risk management is so critical. They remind us the reason we work so hard to develop our risk management software RiskWare that makes the world a little less risky.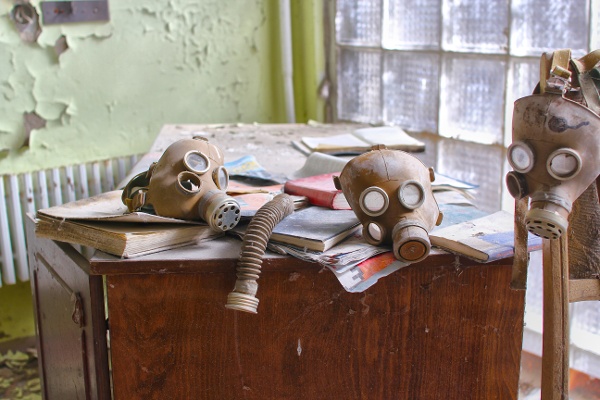 The following movie and TV shows are that ones we think, in particular, every risk manager should see.
Chernobyl
In April 1986, there was a massive explosion at the Chernobyl nuclear power plant in northern Ukraine, releasing huge amounts of radioactive materials reportedly spreading more than 1,000 kilometres beyond the plant's perimeters (Source: ABC.net.au). It is considered the worst nuclear disaster in history. The explosion occurred during a routine maintenance check. Operators had planned to test the electrical systems when they turned off crucial control systems, violating safety regulations and this caused the reactor to reach dangerously unstable and low-power levels. This year, the 5-part miniseries titled Chernobyl was released, giving us a severe look at the detrimental impact of disaster and what happens when a disaster recovery plan is not in place.
The Big Short
This 2015 movie is a worthwhile watch especially for anyone managing risk in the financial industry. The true story focuses on the lives of six financial professionals who predicted and profited tremendously from the collapse of the U.S. housing and credit bubble in 2007 and 2008. The Big Short illustrates the consequences of not understanding the risks of your investments at every level, from large organisations to everyday consumers.
"Life imitates art far more than art imitates life." - Oscar Wilde
Designated Survivor
There are few circumstances that would need a disaster recovery plan more than when the lives of a country's leader as well as hundreds of its top officials are claimed at the hand of a terrorist attack and that's exactly what happens in the TV series Designated Survivor. In this fictional case, character Tom Kirkman, the Housing and Urban Development secretary, is named the designated survivor, finding himself the new President of the United States. Given the complete unlikeliness of the event, his promotion is all that is planned for, demonstrating yet again that worst case scenarios need to be considered so the appropriate plans can be put into place.
Unstoppable
Trucks, trains, airplanes and boats transport all sorts of materials, sometimes ones that need to be handled with great caution, meaning those situations carry greater risk. Obviously there are numerous precautions that can and should be taken to ensure this travel goes smoothly. The movie Unstoppable reminds us just how critical those preliminary procedures are when a train loaded with toxic chemicals goes out of control. To avoid a detrimental incident, a senior engineer and young conductor risk their lives to mitigate the potential damage. As this movie is based loosely based on a real-life incident involving a CSX Transportation freight train in the U.S., it shows the types of unthinkable crises that should be prepared for.
Dante's Peak
We couldn't leave this list without a story involving a natural disaster and what better one to choose than a volcano. In the 1997 movie Dante's Peak, volcanologist Harry Dalton and mayor Rachel Wando realise the volcano right above the town Dante's Peak could erupt at any moment and need to convince the city council as well as other scientists to take the threat seriously and plan for people's safety over economical interests. Ultimately, there's an earthquake and the volcano does erupt, causing enormous panic and grave destruction. The lesson we learn from Dante's Peak is that threats and impending risks not only need to be identified but also paid attention to, making the role of risk managers incredibly influential.
While very dramatised, the next time you're wondering about the value of risk management, know that "reel" life imitates real life like these movies and TV shows. They offer an education in risk and the potential negative consequences of not preparing for risks, with a side of entertainment.
---
To learn more about how RiskWare is making the world a little less risky, visit us at RiskWare.com.au.